Businova hydrogen integrates the UGAP catalogue
The Businova integrates the catalog of the UGAP (Union of Public Purchasing Groups) in the category "Hydrogen buses".
The 10.5m and 12m versions are now available for direct purchase via ugap.fr alongside other hydrogen bus manufacturers.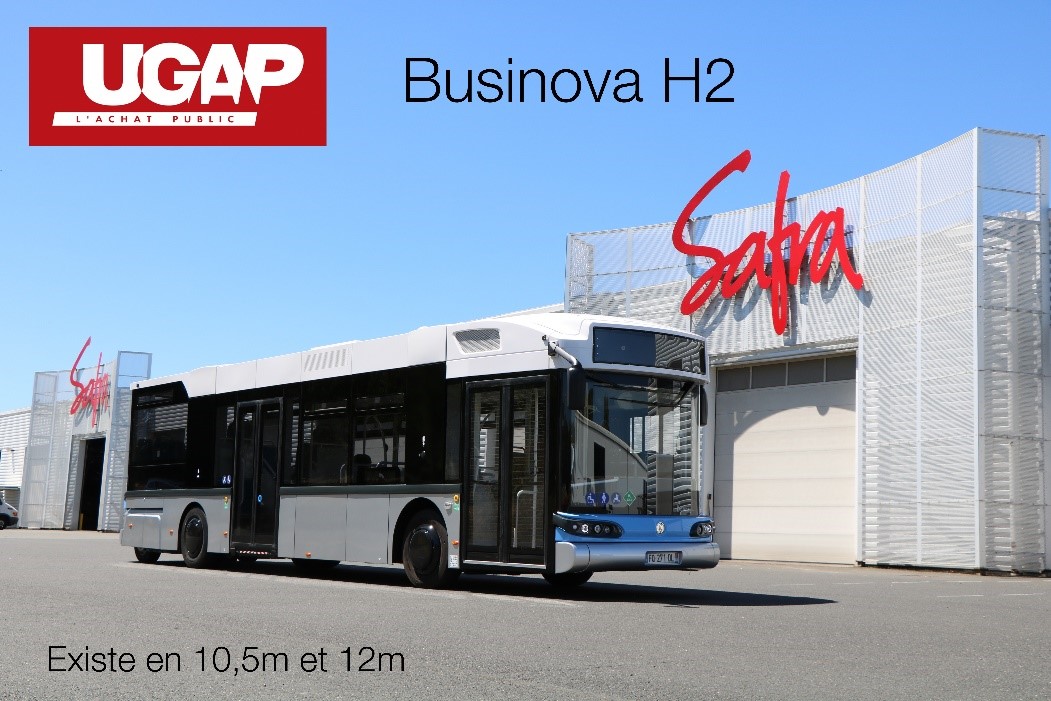 The Union des groupements d'achats publics (UGAP) is the "generalist" public purchasing centre in France, which offers more than 1 million products, including electric vehicles.
In the mobility category, a range of vehicles from 3 manufacturers has been selected to offer electric buses.
The interest of going through a central purchasing in the acquisition of new transport equipment is for the customer the ease of access to the product, without having to conclude any contract.
It is also in the interest of the public buyer to have a single commercial interlocutor, and the settlement, on his behalf, of any disputes.
Already listed in the category «Electric buses», with 3 dimensions, this new reference in hydrogen thus accompanies the commercial development of SAFRA Constructor.
The complete range of zero-emission buses (electric and hydrogen) designed and manufactured by SAFRA Constructeur is thus fully available for online purchase, accessible to all French agglomerations wishing to convert their fleets to sustainable transport bunkers.
On the chosen side, the Businova H2 perfectly meets French and European environmental directives, and its atypical design continues to appeal to many French cities, which are also sensitive to the only hydrogen bus manufactured in France. On the operator side, the Businova H2 is also a very easy-to-operate urban bus. It offers a minimum range of 350km, with a refill of 30kg of hydrogen in about 15mn. The 250 kW electric motor is powered by a 30 kW fuel cell supplied by Symbio (a subsidiary of Michelin/Faurecia).
This vehicle, which has been on the market since 2019, is already circulating in 3 French cities, Artois-Gohelle, Versailles and Le Mans, and soon Auxerre and Hyport (Toulouse).
Did you enjoy this press release ?