SAFRA receives 3 Ministers and hosts the first National Hydrogen Council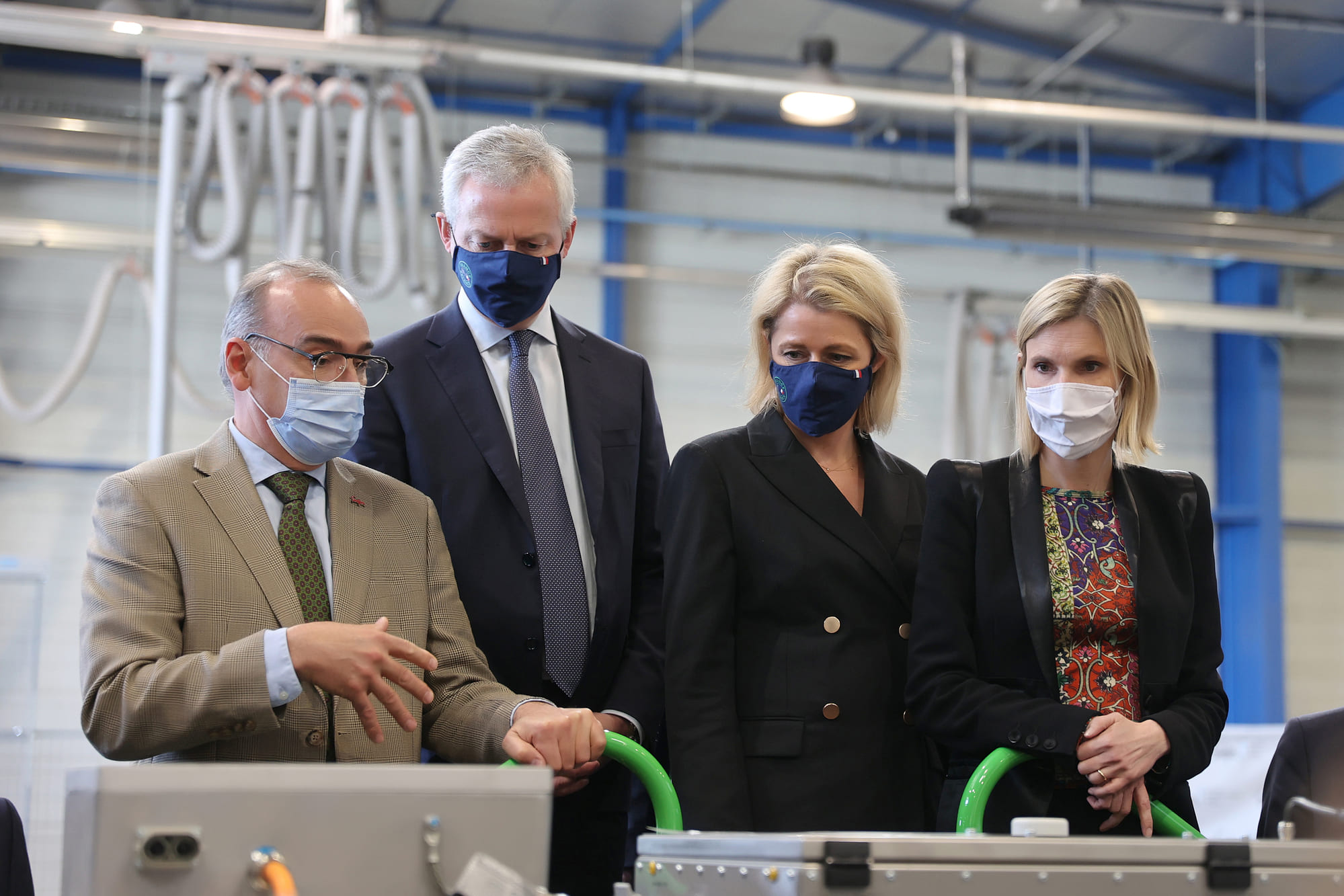 The company SAFRA received on Thursday, February 25, 3 Ministers for a visit of its workshops of production of Businova hydrogen, and also hosted in its premises, the first National Hydrogen Council, which was held partly in video conference around the 3 Ministers and the 15 major industrialists that make up the CNH.
On the morning of 25 February, SAFRA had the honour of welcoming 3 Ministers to its premises for an extraordinary visit.
Bruno Le Maire, Minister of Economy, Finance and Recovery, Barbara Pompili, Minister of Ecological Transition, and Agnès Pannier-Runacher, Minister Delegate in charge of Industry, traveling in the Tarn.
At the beginning of the morning, they chaired the first National Hydrogen Council (CNH) gathering 15 eminent representatives of French industry for a highly strategic meeting.
This meeting was held at SAFRA's premises, via video conference as other participants participated in the meeting remotely.
At the end of the meeting, the Ministers announced financial assistance of €750,000 under France Relance, and the TERRITOIREH2 project submitted by the SAFRA Group. This grant will allow the company to ramp up and industrialize on a large scale, ultimately creating several hundred jobs.

The meeting ended, the Ministers then went to the Businova manufacturing workshop, where they were greeted by local elected officials, Stéphanie Guiraud Chaumeil, Mayor of Albi and President of the Albigeoise agglomeration, Christophe Ramond, President of the Departmental Council, Marie-Christine Verdier-Jouclas, Member of Parliament for Tarn, and Carole Delga, President of the Occitanie region.

Vincent Lemaire, President of the SAFRA Group, then visited the workshops, presenting the building extension program, the technology used, the operation of the fuel cell, and the Ministers were able to discover the Businova in its various stages of manufacture.
They also had the opportunity to discuss with the employees, who were able to convey in a few words their motivation and passion.
This interest in SAFRA highlights the company's historical know-how, but above all its visionary spirit with its extensive development programme around hydrogen businova.
Did you enjoy this press release ?